New Jersey's Only Radio Station
WPRB is a community-supported, freeform radio station. Our FM signal (103.3) serves central New Jersey, Philadelphia, eastern PA and the northern tip of Delaware. We reach a global audience at wprb.com.
Jul 28, 2023 10:00 AM – 12:00 PM
Music
With Dana K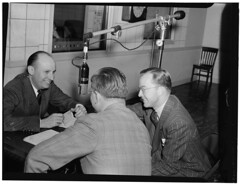 10:02 AM

The Desperate Bicycles

The Medium Was Tedium

10:04 AM

Lion and the Cobra

Chrysalis Records

1987

10:17 AM

The Would Be's

I'm Hardly Ever Wrong

I'm Hardly Ever Wrong - Single

Decoy

1990

10:18 AM

Life's Too Good

Rhino/Elektra

1988

10:21 AM

Blush - EP

Paisley Shirt Records

2022

10:24 AM

Kate Bush

Suspended In Gaffa

The Dreaming

Fish People

1982

10:28 AM

10:31 AM

Look Blue Go Purple

100 Times

Look Blue Go Purple Compilation

Flying Nun Records

1991

10:42 AM

The Velvet Underground

I'm Set Free

The Velvet Underground

Polydor

1969

10:48 AM

Uncollected

20/20/20

2009

Young Marble Giants cover

10:50 AM

The Magnetic Fields

Papa Was a Rodeo

69 Love Songs

Merge Records

1999

10:55 AM

10:58 AM

Shop Assistants

It's Up To You

11:07 AM

11:09 AM

Linda Smith

I So Liked Spring

Till Another Time: 1988-1996

Captured Tracks

2021

11:15 AM

Veronica Lake

This Is My World (You Can Have It)

The Man Who Was Not With It

The Bus Stop Label

1992

11:21 AM

Maxine Funke

Willow White

River Said

Disciples

2023

11:25 AM

Early Recordings

Rough Trade Records

1989

11:28 AM

Why Not Now?

Tough Love Records

2023

11:35 AM

The Durutti Column

A Silence

Short Stories for Pauline

Factory Benelux

2012

11:40 AM

The Stars Are So Big the Earth Is So Small... Stay As You Are

Too Pure

1993

11:44 AM

Arthur Russell

The Boy With a Smile

Picture of Bunny Rabbit

Audika Records

2023

11:49 AM

Brigid Mae Power

I Know Who Is Sick

Dream From The Deep Well

Fire Records

2023

11:51 AM

Vacant Gardens

Crimson Crush

Obscene

Tough Love Records

2022

11:58 AM

Sinéad O'Connor

Just Call Me Joe

Lion and the Cobra

Chrysalis Records

1987
Dana K (host)
10:01:48 AM
it's real!
hello guys, dana just started to really listen to this station
Easy. Cheap. Ahead went. It done.
Dana K (host)
10:04:00 AM
welcome, john!
Dana K (host)
10:04:36 AM
and hi, Brian!
Commie Francis ☭
10:05:11 AM
Desperate bicycles week on wprb
Commie Francis ☭
10:05:40 AM
(I posted the medium was tedium on my show this week!)
thanks dana glad to be here
Commie Francis ☭
10:06:27 AM
Er played, I played it
Dana K (host)
10:06:28 AM
i felt like i couldn't get away with playing DBTF twice in one day
Commie Francis ☭
10:07:11 AM
Maybe I'll play advice on arrest tomorrow, just keep going with it
Commie Francis ☭
10:07:30 AM
I love the practical advice of the desperate bicycles
Dana K (host)
10:08:16 AM
and then play the shark toys cover. and maybe erik nervous has a cover too?
Dale Hazelton
10:09:07 AM
haven't heard this in years. amazing vocal performance.
Good morning Commie Francis!
Montclair! Thank You Scientist's town of formation :)
Dana K (host)
10:16:16 AM
home of Almost Ready Records, as I learned
Dana K (host)
10:16:27 AM
My first time there! Not the part of Jersey I'm from
My daughter went to MSU. We loved hanging out there
rob f msu is montclair right?
Yes, Montclair State Univ
I have also been nowhere near Montclair ever in my life (I think).
@Rob f thanks, i was thinking michigan state university
Dana K (host)
10:20:50 AM
it had a record store and a theater showing independent movies and a lot of charming victorian architecture - i liked it. but the hike up the NJ turnpike was not fun in 90 degree weather with car AC that only sort of works
Commie Francis ☭
10:22:12 AM
My great aunt lived in Montclair and we went there every Christmas afternoon til she moved south
Commie Francis ☭
10:22:45 AM
And I went to a super weird show there the other weekend in an absolutely disgusting basement venue
Commie Francis ☭
10:22:59 AM
Like disgusting in a very punk way
Dana K (host)
10:23:04 AM
In Montclair? What did you see?
Commie Francis ☭
10:23:27 AM
It was a weird goth show the brood got added to
Commie Francis ☭
10:25:18 AM
There was a band of teenagers who were charmingly inept, I don't know what they were going for but it was almost Anarcho punk. A nice synth pop band. A Christian goth band trying to Make It Big who are from TN but contractually obligated to say they are from Philly. And a solo with pre-recorded tracks NIN style young dude. The audience was 75% high schoolers
Commie Francis ☭
10:26:20 AM
The audience also absolutely loved every band. I don't regret going!
Dana K (host)
10:26:27 AM
Kids need to learn that you can be punk for your entire life!
Commie Francis ☭
10:28:30 AM
There was a kid who sang along with one of the brood's songs and told me after that he had heard that one. But it hasn't been released so... He hasn't. It just has a very repetitive chorus. It was cute. The whole thing was very cute.
Commie Francis ☭
10:29:51 AM
Also some child goth danced with me
Kenneth Macarus
10:31:00 AM
You are playing all my favorite bands! Just what I needed today!
Dana K (host)
10:31:34 AM
aw, i love to hear that, kenneth!
Dana K (host)
10:32:07 AM
speaking of childs, and i wrote about this on facebook, but i was surprised by how young the Swirlies audience was last weekend
Dana K (host)
10:32:43 AM
it's a 21+ venue so they weren't actual children, but for a 30+ year old band the majority of the audience were in their 20s. Not usually my experience!
Shoegaze is really catching on with Gen Z and late Millennials, it really makes me happy seeing it continue.
I would bet that some younger people got into it through the route of Vaporwave/adjacent to Cocteau Twins, then further exploration.
tandy or exploring their parents music
Yep! Parental osmosis and likely just because 90s and early 00s music is the cool retro thing to a lot of younger people too. My teenage nephew reportedly likes MF DOOM, which put a smile on my face.
tandy nice about your nephew, also hanging with you has to do it too
Dana K (host)
10:40:18 AM
my parents absolutely have no interest in the music i'm into, though my dad and i share a love of folk and some new wave power pop bands (elvis costello, squeeze, dave edmunds)
Hey, it's Dana K! Thanks for covering for Freddie 🎧
ohh velvet underground love it
Kenneth Macarus
10:41:18 AM
Just keeps getting better!!!!
Back when my daughter was in high school, I used to rotate a box with CDs in the car. My daughter loved checking them out
Dana K (host)
10:41:49 AM
my dad did get me into the velvets by sending me a lou reed CD box set while i was away at summer camp in middle school
His mother is a huge hip hop head compared to me so it's likely that her taste rubbed off on him. I'm the weird guy who loves repetitive electronic dance music
Dana K (host)
10:42:15 AM
but he does not like any of the more "difficult" music i listen to, or punk
dana i love lou reed, have you ever listened to the cowboy junkies version of sweet jane?
repetitive electronic dance music. I like that too
Dana K (host)
10:45:56 AM
no! cowboy junkies are my stepmom's favorite band, i wonder if she knows it
My dad has a very "classic rock radio hits" taste in music so it's really hard to get him into anything else. Whenever I'm in the car with him I change it to PRB. I caught him tapping his foot to PBR a few times, and I think he would like this current set rn.
Dana K (host)
10:48:21 AM
Apologies for the tech issues, all
Commie Francis ☭
10:49:05 AM
My mom usually just likes when I play Burl Ives or things like that but one time she texted me that she loved the credit to the nation song I was playing (chumbawamba-adjacent UK Anarcho hip hop)
dana i was goiing to suggest the trinity sessions by the cowboy junkies
dana no worries about the tech issues
Dana K (host)
10:52:02 AM
my mom has no real interest in music (at least not like we do) and never really listened to my show. she's been listening to the same chris cornell album for the last 20 years or whatever.
dana too bad for your mom
Nice! A morning edition of DBTF! I got a thing tonight so i won't be able to tune in then.
Dana K (host)
10:58:45 AM
you're gonna miss the ROCK show, colin! but glad you can tune in now
yeah, it is sad, but i'll survive.
I'm gonna head off chat now so I can relax and try to get myself to sleep without much struggle. Hoping I'm in a chatty mood to pop back in later, have a good day all :)
rest up keep cool 😎 tandy!
yeah i have to step out too, got things to do and people to see
Dana K (host)
11:06:28 AM
enjoy your days!
Dana K (host)
11:06:37 AM
/sleeps
I haven't heard Lida Husik in a long while...that was great!
Dana K (host)
11:09:57 AM
Christine, she was a WPRB library discovery for me
@Dana, I probably first heard her on WPRB, at some point down the years!
Dana K (host)
11:14:37 AM
hi andrew!
BORN TO BE WIIIIIILD! I ate up those Steve Martin stand up lps
Commie Francis ☭
11:15:51 AM
I should be getting up off the couch and doing things but Walter (my dog for people who are not Dana) is curled against my legs sleep barking so.....
Commie Francis ☭
11:16:07 AM
I am technically working. This show has been very pleasant Dana!!
This may not be the rock show but the vibe is just right for me to focus (and still play in the chata little) to get through the work tasks so I don't have to stay late tonight.
Rob from Maryland
11:20:21 AM
Good morning Dana, this show has been wonderful, the part that I have caught (since the end of the Mag Fields song).
brian, when I was a kid my friends parents had a good collection of stand up lps and when we couldn't get outside we often dug into those. the Steve Martin ones were favorites.
yoni from kdu
11:21:40 AM
Been listening while doing this taste test thing for $$$. Perfect vibes for trying to decide between SWEET and NOT SWEET!
Dana K (host)
11:22:18 AM
so glad the vibe is working for y'all. too bad i'm about to launch straight into cannibal corpse
yoni from kdu
11:22:49 AM
My favorite vegan band!
cannibal corpse for the win
Dana K (host)
11:24:58 AM
*checks notes*, uh, sorry, no, Opal
yoni, sweet and not sweet is better than sweet or sweat
yoni from kdu
11:29:38 AM
That's the next taste test, actually
lol, round three, sweat or the ocean
Belated "it was nice to hear Troy as I was parking my cat" message.
Mom and i were at Woolworth or Woolco one day back in early 80s looking at the $1 discount lps. Grabbed up Steve Martin "A Wild and Crazy Guy" . Devoured it and went out and bought up all the other comedy lps of his. George Carlin "Class Clown " too.
I had a science teacher my 8th and 9th grade years and she had taste in music, we would trade records from time to time. I remember seeing that opal cover in her at work records.
yoni from kdu
11:34:15 AM
How does one park a cat, Jon?
That's a weird auto-correct, laptop!
Uh......meowever you can find a spot downtown?
yoni from kdu
11:39:06 AM
Tiny boxes in tiny parking spots. I'm into it.
Dana K (host)
11:41:09 AM
My cat does love to park herself on my lap
that brigid track was short and very sweet
Dana K (host)
11:53:16 AM
apparently she has a cover of angel from montgomery which i am going to listen to as soon as this show is over
What a great surprise edition of DBTF...thanks, Dana K! ✨️🚲
This tracks feeling very therapeutic
oh my gosh end of show! keep cool and hydrated today frenz.
Dana K (host)
12:01:15 PM
my favorite part of this song was cut off, please find the time to go listen to the Lion and the Cobra (and all of her music) if you haven't already
Dana K (host)
12:01:24 PM
See some of you later tonight!