New Jersey's Only Radio Station
Mar 29, 2022 9:00 AM – 10:00 AM
With Pangaeo
​with Pato, not Pangaeo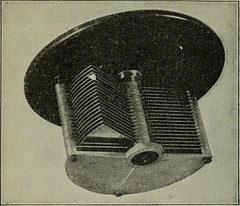 9:01 AM

Marla Mase

New Cell Phone

Speak (Deluxe Edition)

True Groove

2013

9:07 AM

Tonstartssbandht

All of My Children

N

Petunia

Mexican Summer

2021

9:09 AM

Fatigue

Mexican Summer

2021

9:09 AM

Russian Poets

Luova Records

2017

9:13 AM

Alabaster Deplume

Do You Know a Human Being When You See One?

N

Gold

International Anthem

2022

9:17 AM

Yamash'ta & The Horizon

Sunrise from West Sea Pt. 1 (excerpt)

N

Sunrise from West Sea

Wewantsounds

2022

reissue of 1971 LP

9:22 AM

Carl Stalling

Porky In Wackyland (1938) / Dough for the Do Do [1949]

The Carl Stalling Project - Music from Warner Bros. Cartoons 1936-1958

Rhino/Warner Records

1990

9:28 AM

Set Break:

and now it's time for the SCARLET PUMPERNICKEL GAME SHOW. Is this cover song A. Better than the original. B. Waaaay better than the original. D. All of the above ... G'luck

9:36 AM

Fred Frith

Dancing In the Street / My Enemy Is a Bad Man

Gravity

RER Megacorp

2005

9:39 AM

Christine Schörkhuber/Zorka Wollny

Untitled 1 (edited for radio)

N

Lullabies To Wake Up

Inexhaustible Editions

2022

9:53 AM

Psymon Spine

Jumprope (Love Injection Euphoric Mix)

N

Charismatic Mutations

Northern Spy

2022

9:58 AM

Leya

Dankworld Interlude (feat. Claire Rousay)

N
Good day. Another red bread loaf is outta the oven and ready for your ears' consumption. Welcome Joe Keffer.
G'morning Pato & all...tasty red bread today.
I am digging this Tonstartssbandht album.
-ᎷяMΔᏞᏨØИᎢΞNᎢ-💀
9:08:36 AM
GREETINGS AND SALUTATIONS!
-ᎷяMΔᏞᏨØИᎢΞNᎢ-💀
9:09:05 AM
Hello, DJ Pato!
-ᎷяMΔᏞᏨØИᎢΞNᎢ-💀
9:09:27 AM
Haha
Good day all. I can't seem to erase the PREVIOUS DJ's name and update it with mine. Must have something to do with the chat moving to the WPRB platform. Rest assured, though. It's me, PATO, not that other guy.
Ahhhh. That's better. I hate pretending to be someone I'm not
-ᎷяMΔᏞᏨØИᎢΞNᎢ-💀
9:24:34 AM
Oh! You gotta put directions into an email to all DJs for updating their "username"!!
-ᎷяMΔᏞᏨØИᎢΞNᎢ-💀
9:25:56 AM
Warner Bros Cartoons ❤️
Trade secret, -ᎷяMΔᏞᏨØИᎢΞNᎢ-💀: There really are no other DJs. It's just me changing my user name from show to show
Ya some bugs in the bread for a bit no doubt. If you click on the previous "music from the planet World " show in Today's Program in the main site it only has a list of shows up to 2021. And that Dr Pangeoloss has their name on both shows. Best of all possible Worlds Musics indeed Candide....
-ᎷяMΔᏞᏨØИᎢΞNᎢ-💀
9:27:51 AM
That's almost completely unbelievable and impossible!! Good for you!! Very busy!!
-ᎷяMΔᏞᏨØИᎢΞNᎢ-💀
9:28:50 AM
At DJ Pato!
Stalling is so much fun !
Stalling brings all the colleagues to the cube
Carlheinz Stallinghausen. There's a mashup for the universes waiting to happen
@Brian D -- Carlheinz Stallinghausen. SPLAT (the sound of me mind being blown)
Love the lps from French Frith Kaiser Thompson. Great meeting of the minds having fun. Richard Thompson singing in Okinawan big bonus. Fun Surfin' USA cover too
And "Now That I Am Dead" is a hoot
David Shortell
9:42:19 AM
I never knew why the great Bob Clampett left Warner Brothers in 1946. (Friz Freleng directed the color Wackyland remake two years later.)
I think Bob Clampett left after his kin Jed struck oil (bubbling crude) one day while shooting up food
Oh, this is definitely people's thoughts before they fall asleep...
finally the truth or Frith Gaopeto .. well done my firend..
David Shortell
9:47:58 AM
Clampett cartoons were so wacky to begin with, it was hardly necessary for Porky to visit a Wackyland. Kind of like Betty Boop in "Crazy Town" (1932).
Those old classic 'toons are real head trips. I heard tell tales of drug use.
-ᎷяMΔᏞᏨØИᎢΞNᎢ-💀
9:50:59 AM
Final Ten Mins?! I'm cry
Don't cry -ᎷяMΔᏞᏨØИᎢΞNᎢ-💀. Good stuff ahead with Bernie, Wilbo, DJ Pup ... and on and on
David Shortell
9:53:18 AM
Somebody once described the Fleischer Brothers' work to me as "acid cartoons". However, LSD wasn't invented until 1938 (and its effects discovered 5 years later).
-ᎷяMΔᏞᏨØИᎢΞNᎢ-💀
9:53:28 AM
DJ Pato, thanks for causing trouble by sharing all these strange selections! Cheers and kind regards!
Thank you, DJ Pato! Delicious assortment of red bread today 👍
Thanks guys, it's always a boost to have you at the groaning board.
-ᎷяMΔᏞᏨØИᎢΞNᎢ-💀
9:56:47 AM
Cheers to all the Dears, especially those with Big Pumpernickel Ears!
-ᎷяMΔᏞᏨØИᎢΞNᎢ-💀
9:58:04 AM
I'm a poet, and didn't know it!